As part of the OutDoor Show, which is currently taking place in Friedrichshafen (Germany), Ternua's RIDE ON pants for men and women have received the Gold Industry Award, the highest prize awarded by a jury of international experts to the world's most innovative products. There have been 330 aplications, 37 winners and only 8 Gold Winners: one of them our RIDE ON pants. In particular, the jury recognized the design and functionality of these pants, made with yarn from disused fishing nets. Together with the UPRIGHT pant, the RIDE ON pants are the first garments produced as part of the REDCYCLE project , although the Spring- Summer 2018 collection also includes the CEIDE women's leggings. The initiative, which was launched in 2015 by Ternua and OPEGUI (Gipuzkoa Inshore Fishing Producers Organization), involves collecting disused fishing nets from the Basque fishermen's associations in Bermeo, Gipuzkoa and Hondarribia and transforming them into yarn for making sustainable technical garments. 12 tonnes of abandoned nets were collected in 2016, which Ternua has used to manufacture these two models of pants that will be in stores in October. The aim of Redcycle is to educate society about the importance of recycling and protecting the planet.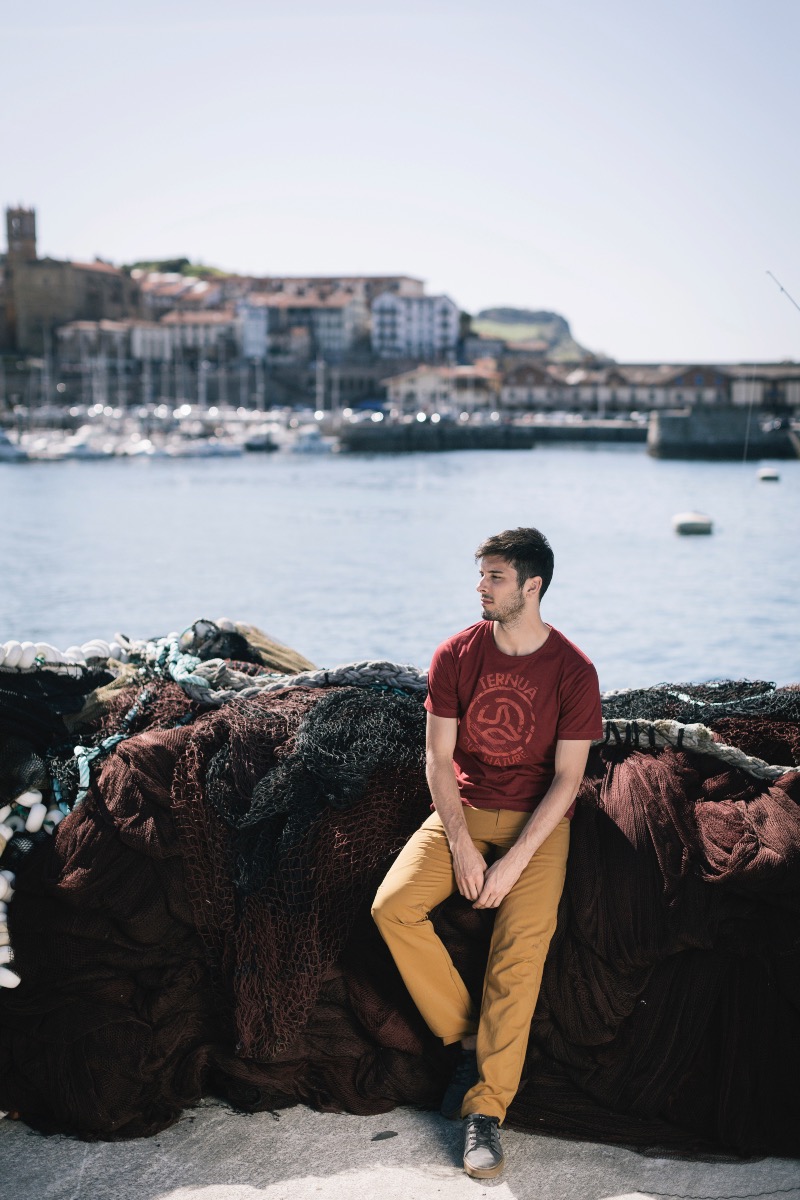 In order to recycle the nets, Ternua cooperates with the Italian company Aquafil, pioneer of a unique recycling process that enables disused nets to be transformed, together with other Nylon waste materials, into regenerated ECONYL (R) yarn. The journey therefore begins at the port, where the nets are collected and, from there, they are sent to Slovenia, where Aquafil prepares, shreds and cleans the waste material so it can be sent to the ECONYL (R) regeneration plant. There, the waste material begins its journey through regeneration, being turned into a raw material and becoming ECONYL® yarn, which is sent to textile manufacturers. The final yarn is the result of blending recycled fishing nets with other recycled materials (such as carpets). This yarn is sent to IBQ Fabrics in Barcelona, where the fabrics are developed and, once in Mondragón, Ternua begins the process of designing and developing the garments. Thanks to the collection of these first 12 tonnes of nets, Ternua has been able to generate 9 tonnes of usable recycled polyamide, and has prevented 18 tonnes of oil from having to be consumed and 40 tonnes of CO2 from having to be generated in order to produce this material in the form of virgin polyamide.
Edu Uribesalgo, founder of Ternua and current head of R&D at the Ternua Group, welcomed this news: "This award recognizes the work we have done at Ternua on the Redcycle project. We've been involved in this project from the beginning, from collecting nets at the port, to the end. It wasn't easy to find a supplier to convert the nets into yarn. But this is our reward. We hope that this award will help us to spread the word about the project and attract more companies to join our cause. There are currently estimated to be 640,000 tonnes of fishing nets littering the seabed (European Environment Agency) which, apart from polluting, pose a death threat to some animal species. We won't be able to put an end to the problem but we can minimize the impact. And the more people are involved, the better. That's why we're calling on the textile industry, in particular, and people in general to join our Redcycle project and make a commitment to sustainable innovation, because it is possible to produce in a different way."
It is worth remembering that Ternua designs and produces according to sustainability parameters. 99% of its Spring-Summer 2018 products are manufactured with or use Bluesign-certified fabrics, GOTS-certified (Global Organic Textile Standard) 100% organic cotton, recycled fabrics or natural biodegradable fabrics and 25% of its SS 18 collection are recycled garments. It has a firm commitment to eliminate PFCs from all its products for the FW 2018 collection. In fact, 97% of the SS 18 collection is PFC-free and the other 3% is PFOA/PFOS-free. Ternua is a pioneer in using Neokdun recycled down in all its down products and in applying a PFC-free water repellent treatment to its recycled down. An unstoppable journey towards sustainability and the circular economy. A clear and firm commitment by Ternua, the brand that protects people while at the same time protecting the planet.
In the field of innovation, Ternua has elite partners, notably including the alpinist Alberto Iñurrategi, who examine and test the prototype garments that are designed, in a kind of innovation laboratory, as they set the new challenges in the development of new products, testing them before they are launched. This process forms part of the What's Next Project. Finally, it is worth highlighting the brand's craftsmanship, as a real clothing manufacturer with the ability to make garments in its own headquarters, something that few brands can claim.