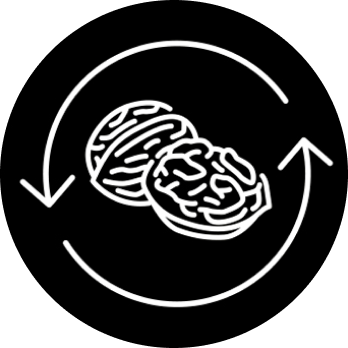 INNOVATION PROJECT
NUTCYCLE
WHAT IS IT?
A project that reuses agricultural waste and applies it to garments as a natural dye, also avoiding the use of artificial dyes.
It is a project in which we are working together with the Environment Department of the Gipuzkoa Provincial Council and the association of cider houses of Gipuzkoa and Archroma.
HOW DO WE DO IT?
Biosynthetic dyes with complete traceability, derived from agricultural waste and natural herbs.

With Archroma, our production is clean and environmentally friendly.

It contributes to the circular economy.

The use of raw materials from natural waste has no negative impact on other facets of dye manufacturing.
WHERE DID THE IDEA COME FROM?
As a brand from the Basque Country, Ternua is very influenced by its culture. Here gastronomy is very important, and it is common for important decisions to be made around the table. The cider houses, for example, are typical Basque restaurants that are visited by some 20,000 people every year. The customary dessert in a cider house is alnuts, and up to 55,000 kilos of walnuts are consumed each season.
Once we knew that organic waste could be used for the creation of natural dyes, it occurred to us to use the waste from the walnuts consumed at the cider houses to create dyes for our garments.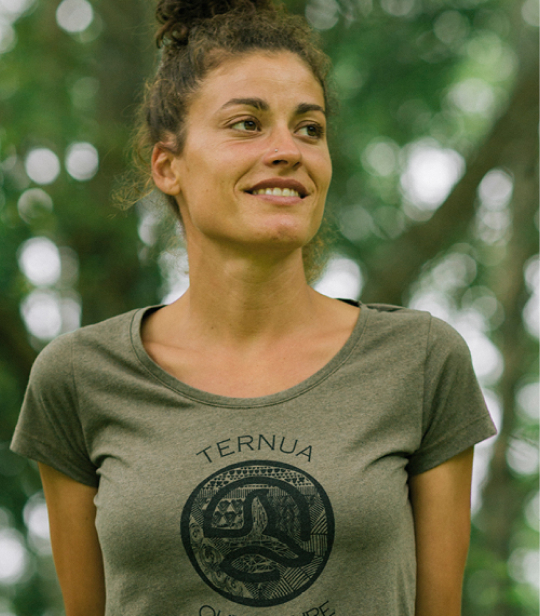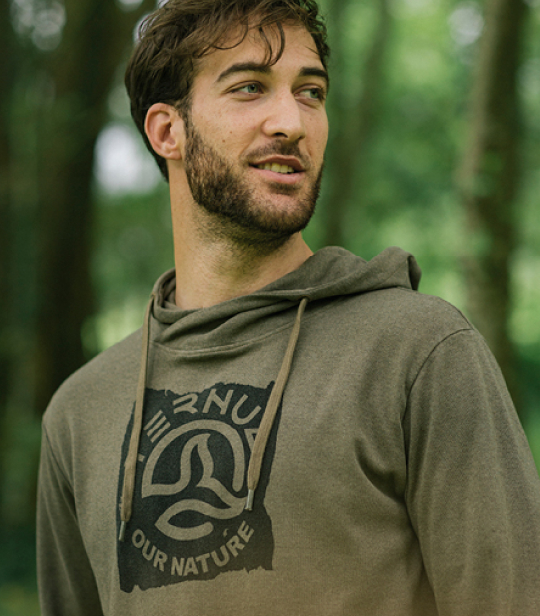 THE MOST SUSTAINABLE GARMENT IN TERNUA'S HISTORY
Se trata de las prendas más sostenibles que hemos fabricado en toda nuestra historia. El tejido es una mezcla de algodón reciclado (procedente de productos que han sido reciclados al final de su vida útil) y poliéster reciclado (procedente de residuos de botellas PET). Para teñir el producto se han empleado residuos agrícolas no comestibles (cáscaras de nuez). Para ello, nos hemos asociado con Archroma y la asociación de sidrerías de Gipuzkoa. Las cáscaras de nuez son el único residuo que generan las sidrerías cada temporada. Hemos recolectado las cáscaras de nuez de 4 sidrerías y, tras triturarlas, las hemos enviado a las instalaciones de Archroma en Barcelona, donde las han transformado en colorante que podemos utilizar en nuestros productos. A continuación, la fabricación de la tela y las sudaderas y el proceso de teñido se llevan a cabo en Portugal.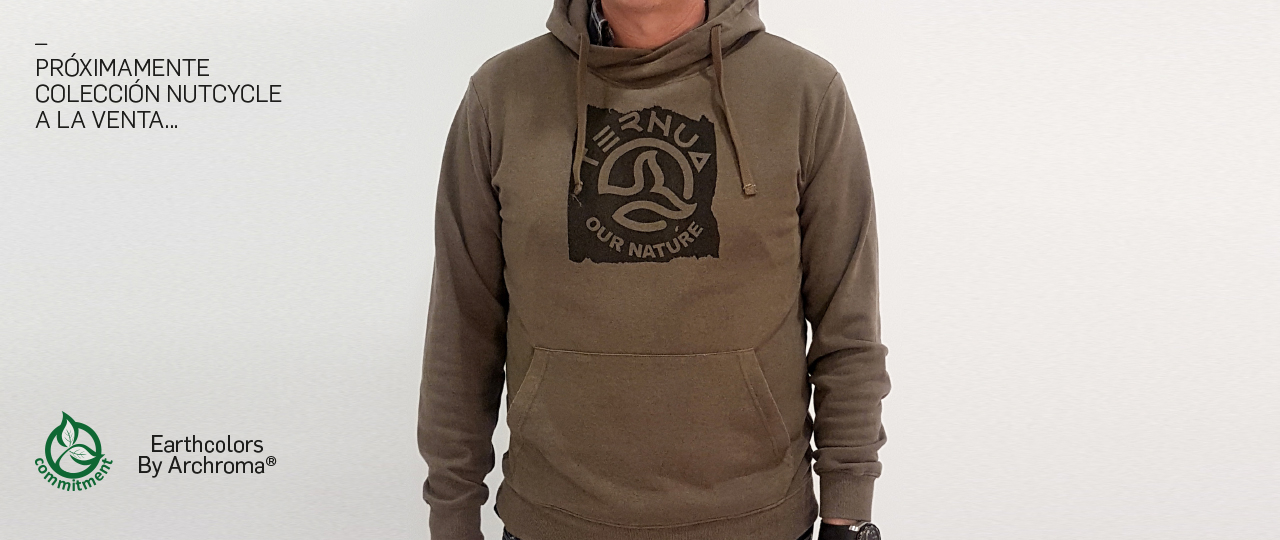 WHAT THEY SAY ABOUT NUTCYCLE:
"We are seeing how social awareness and responsibility for the environment positively affect this type of initiative"
Representative of environmental and hydraulic works
"The same features as synthetic dyes"
Archroma Promotional Director
"With this type of action we make people aware of how to recycle correctly, achieving benefits for everyone"